Faculty of Medicine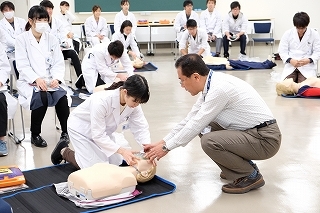 The Faculty of Medicine aims to produce physicians and medical researchers who have extensive medical knowledge, skills and well-rounded humanity. The faculty strives to contribute to the development of medicine, medical care, and to the enhancement of human health and welfare.
 Based on our University's Foundation Vision, many excellent clinicians, who graduated from our University, are contributing to medical treatments both in Shizuoka Prefecture and nationwide. Our graduates are also engaging in state-of-the-art research at our University. New technologies are also being ad opted by the Faculty in fields such as treatments of cancers and the development of advanced diagnostic techniques. In particular, The Preeminent Medical Photonics Education & Research Center was established for the promotion of advanced studies in the field of medical photonics.
 Finally, our graduates play active roles not only as clinician s, medical researchers and medical educators, but also as industrial physicians and medical welfare administrators.