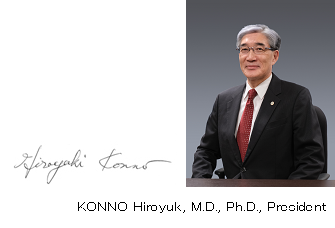 Forty-eight years have passed since Hamamatsu University School of Medicine (HUSM) was established. At the end of the last academic year, the number of graduates reached 4,405 in the Faculty of Medicine and 1,630 in the Faculty of Nursing. Our graduates are active not only in community medicine, but also in nationwide medical practice, research, and government-related fields. Our mission, which is stated in our Foundation Vision, is "to nurture excellent medical personnel, to promote globally relevant original research results, and to play a leading role in local medical treatments." Half a century has passed since HUSM was established, and even in the present age when medical care and nursing have become highly specialized, this vision shows that the university's operations encompass its unwavering noble spirit.
Over the past two years, COVID-19 has been raging around the world, with an extremely serious impact on society and the economy. The university was one of the first to implement thorough infection prevention measures. All faculty members and students act with a high awareness of epidemic prevention, and through the constant efforts of all, we are able to fulfill our responsibilities as the core of community medicine, such as education and medical care. The classes are a hybrid of online and face-to-face teaching. All faculty members and students actively cooperated in infection prevention measures and fully demonstrated their abilities as "Team HUSM".
It has been 18 years since the incorporation of this national university. Three terms of the 6-year Mid-term Objectives have passed and we are now in the fourth term. We have announced the Future Vision, which I will outline here as well.
In education, we have been promoting educational reformation along with admissions reformation for the past 6 years. In terms of entrance exams, we have increased the weight of individual entrance exams, implemented presentations as part of the interview process, and anticipated the nation's recent shift of direction away from exams that test 'memorization' and towards testing 'logical thinking, judgment, and expressiveness.'
For undergraduate education, we implemented drastic curriculum reformation in the Faculty of Medicine in 2021. In our new curriculum, the study of behavioral sciences such as ethics and psychology are taught throughout the undergraduate education, in order to acquire inner qualities such as rich humanity, empathy based on ethics, and communication skills. In addition to taking TOEIC, which is part of the study program for all students in odd-numbered years, we provide 6 years of English education including e-learning (online education) and presentations in English to foster medical students who can discuss medicine and medical treatment in English upon graduation. We also established the International Center and assigned faculty members, including native English teachers, to promote further international education and international academic exchange.
Furthermore, we will continue to nurture highly specialized doctors and nurses with advanced abilities, and medical personnel who can provide the best medical care that respects the will of patients while cooperating with other occupations. In addition, we will nurture creative medical and nursing researchers who can share their valuable research results with the world and will also adopt the study of entrepreneurship as a formal curriculum from 2022, along with the study of mathematics and data science.
As for postgraduate education, the Doctoral Degree Program in Nursing has just started this year. The Master's Degree Program in Nursing offers advanced practice nursing courses in gerontological nursing and psychiatric nursing and will train a diverse range of nurses who are committed to healthcare, including specialist nurses and certified nurses.
In terms of research, basic researchers and clinical researchers will work together to develop innovative treatments for conditions such as mental illness and genetic disorders by utilizing the Imaging Complex system consisting of the latest research equipment and highly skilled technical staff and accumulated knowledge in photo medical research, which is one of the strengths of our university. We will also promote distinctive cross-disciplinary research, incorporating knowledge from other fields such as engineering and informatics. At the same time, we aim to create a society that is physically and mentally healthy by developing new medical technologies and systems and analyzing big data.
Furthermore, in order to deepen industry-academia-government collaboration in our region, we established the Promotion Center for Medical Collaboration & Intellectual Property to strengthen cooperation between private companies, universities, government, financial organizations, and core hospitals. The Next Generation Creative Education Center for Medicine, Engineering, and Informatics was also opened this year to nurture students and workers who have the attainments of design thinking and entrepreneurship that can challenge social issues and develop human resources capable of promoting innovative medical collaboration and creating a medical innovation ecosystem in the region.
In terms of medical care, it is worth mentioning that the Advanced Medical Treatment Center in the University Hospital started operating in January this year. The purpose of this center is to meet the need for additional operating rooms to cope with the recent increase in the number of operations, to relocate and update our radiotherapy unit, and to expand operations of the Chemotherapy Center, Endoscopic & Photodynamic Medicine, NICU, and GCU.
In addition, we will reorganize organ-specific wards in May and establish organ-specific centers in June to improve patient convenience, medical care efficiency, bed control efficiency, and strengthen the medical care cooperation system.
We have also been reinforcing post-graduate education, and our Postgraduate Clinical Education Center provides consistent support from junior resident training to specialist training. Additionally, the Advanced Nurse Training Center trains nurses who perform specific actions, under medical safety, to accelerate team medical care. We hope that such efforts will improve the quality of medical care and nursing.
This year, as shown in the Future Vision, we will promote medical DX (Digital Transformation). The aim is to be a smart hospital that provides safer and more advanced healthcare, improves the quality of care and convenience for patients, and provides a friendly environment for patients and medical professionals. We will also promote consolidation and functional differentiation through cooperation with neighboring medical institutions, including the sharing of medical information, and work to build a resilient medical network.
Regarding regional contributions, we play a leading role in medical care not only in the western region of Shizuoka prefecture but also in the entire prefecture. Approximately 30% of the doctors working in Shizuoka are graduates of HUSM or those related to its medical departments, and nearly 30 among them have been promoted to the position of hospital director in their respective hospitals including three large hospitals with more than 600 beds. In addition, people involved in HUSM are active as directors of the Japan Medical Association, directors of Prefectural Medical Associations, chairpersons of Municipal Medical Associations, and executives of medical administration in multiple prefectures and municipalities.
Furthermore, we will strengthen industry-academia-government collaboration, which is one of the strengths of our university, and aim to create an industry based on medical care by creating innovative technologies and fostering venture companies. As the core of regional revitalization and value creation, we will contribute to the creation of an inclusive and sustainable "wellness society" in collaboration with local communities and other universities.
To realize these visions, we need to understand the functions and roles expected of the university through dialogue with related parties and will operate the university based on objective indicators with the advice of outside experts. Through the development of facilities and equipment, we will strengthen the functions of the affiliated hospital, which supports regional medical care, while combining advanced information technology to organically link the entire campus. We will also work to make the campus a center of co-creation (innovation commons) not only within the university but also with local authorities, industry, and other educational and research institutes.
I hope that HUSM will continue to be an organization in which each individual fulfills their responsibilities, has their own dreams and realizes their own career formation autonomously, which will eventually lead to the sustainable growth of Hamamatsu University School of Medicine.