Guide to library interior
2nd FLOOR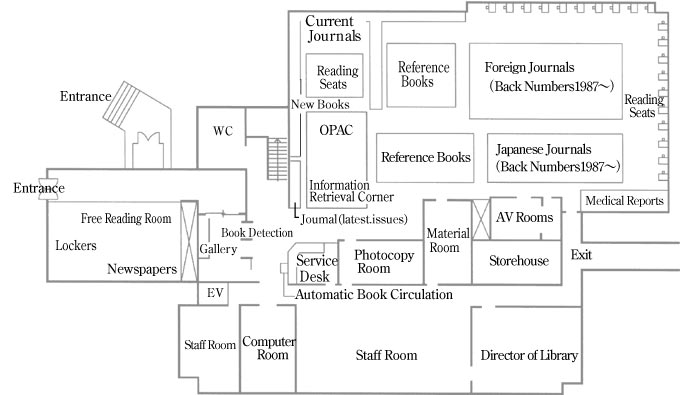 Free Reading Room
This is a reader space and browsing corner where newspapers and magazines are available. Periodicals are available for checkout at the counter. Newspapers are for reading in the library. We have the Shizuoka Shimbun, Chunichi Shimbun, Asahi Shimbun, Yomiuri Shimbun, and the Mainichi Shimbun.

New books and recommended books
New books and recommended books are retained here for a certain period. Books from this corner are also available for checkout.

New Periodicals
Newly arrived periodicals are retained for about 1 week after the day of arrival. They are then moved to the current periodical shelves the following week. These periodicals are not available for checkout.

Current Periodicals
Periodicals received during the fiscal year are available here.

Information Terminals
These are PC connected to the university LAN network. These can utilize CD-ROM, make OPAC (online public access catalogs) searches, and connect to the Internet

Reference Books
Encyclopedias, language dictionaries, and handbooks are grouped here into general reading and medical literature. These are reference materials and therefore not available for checkout. Please use these materials within the library premises.

White Papers/Statistics
Official reports, statistics are available here. These are reference materials and therefore not available for checkout. Please use these materials within the library premises.

Copy Room
Here, we have copiers available, as well as paper cutters, newspapers from the last 3 months.

AV Materials Room
Materials here include video tapes, CDs, DVDs, etc. There are 3 player units available.

Back numbers
Bound journals are arranged here by magazine name in alphabetic order.
1st FLOOR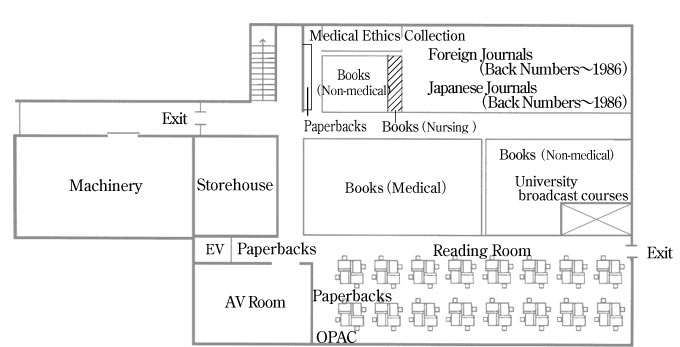 Non-Medical
Non-medicals books are arranged by the Nippon Decimal classification.

Medical and Nursing Books
Medical, nursing, and related texts in both Japanese and Western languages are arranged here by the US National Library of Medical Classification (NLMC) in the order of basic medical and clinical medical texts. Use the signs labeling the shelves to help find a text.

Paperbacks, Pocketbooks, Open University Materials
Paperbacks, small-sized books, and current books from publishers Iwanami Shoten, Chuokoron, and Kodansha are available here as well as texts for Open University of Japan.

Medical Ethics Books
Archives include texts from Yoshitoshi and Ota. This is a collection of texts relating to medical ethics and life ethics.

Audiovisual Room
Large-size TVs, DVD recorders , VHS video decks, and so on are available. Please use the room for group work. Ask for a usage application at the circulation desk.