President's Message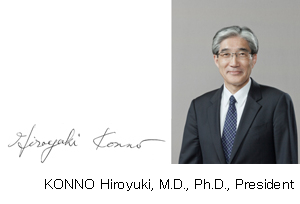 Forty-seven years have passed since Hamamatsu University School of Medicine (HUSM) was established. At the end of the last academic year, the number of graduates reached 4,284 in the Faculty of Medicine and 1,563 in the Faculty of Nursing. Our graduates are active not only in community medicine,but also in nationwide medical practice, research, and government-related fields.Our mission, which is stated in our Foundation Vision, is "to nurture excellent medical personnel, to promote globally relevant original research results, and to play a leading role in local medical treatments." Half a century has passed since HUSM was established, and even in the present age when medical care and nursing have become highly specialized, this vision shows that the university's operations encompass its unwavering noble spirit.
 It has been 17 years since the incorporation of this national university. The president's leadership has been bolstered and expanded to include broad aspects of the university's operations. During this period, the three generations of presidents, including myself, have taken the lead in promoting various reforms together with faculty and staff. As an overview, while maintaining a high pass rate in the national examinations for doctors, nurses and public health nurses, we train excellent doctors and nurses to contribute to community medicine. In addition to developing original research, we have also developed our unique "strengths" such as industry-academia-government collaboration.
 Now in the period of the third Mid-term Objectives, we have been promoting social contributions and reforms with a view to the future, focusing on education, research, and medical care as the mission of this national university corporation to further enhance each field. Additionally, with favorable hospital profits, we have also continued to conduct new construction and renovation of university facilities as planned and improved infrastructures.
 In education, we have been promoting educational reformation focusing on our entrance exams since 2014. In terms of entrance exams, we have increased the weight of individual entrance exams, implemented presentations as part of the interview process, and anticipated the nation's recent shift of direction away from exams that test 'memorization' and towards testing 'logical thinking, judgment, and expressiveness'. For undergraduate education, we will implement drastic curriculum reformation in the Faculty of Medicine from 2021. The acquisition of the necessary knowledge and skills, spontaneous learning, and the ability to solve problems are the principles of "Learning" that form the basis of modern education, as stated in the guidelines for primary education. Moreover, the ability to collect and select valid information from overflowing medical and healthcare reports and being able to solve problems is a necessary condition for becoming a good medical professional. And the most important thing is to acquire inner qualities such as rich humanity, empathy-based on ethics, and communication skills. In our new curriculum, the study of behavioral sciences such as ethics and psychology, which used to be limited to the first year, has been expanded to cover the entire six years. Furthermore, we focus not only on internationality, but also on the mastery of English, which is essential for understanding different cultures, races, and other diversities. In addition to taking TOEIC, which is imposed on all students in odd-numbered years, we will provide 6 years of English education including e-learning (online education) and presentations in English to foster medical students who can discuss medicine and medical treatment in English upon graduation. The number of students studying abroad has been increasing year by year. We have established the International Center and assigned faculty members to improve the convenience for enrolled students and students from abroad, and to promote further international education and international academic exchange.
 As for postgraduate education, the Graduate School of Medicine consistently receives more applications than capacity, including students from overseas, and is able to secure outstanding postgraduate students. With the establishment of the Inter-university Curriculum Doctoral Course (Cooperative Major in Medical Photonics), we have started to develop highly specialized optical engineering personnel adept in the fields of medical engineering based on photomedicine. We have also established a specialized gerontological nursing course in the Graduate School of Nursing Master's Degree Program in 2021. In 2022, we plan to open a course to train professionals in psychiatric nursing and a doctoral program in nursing. Additionally, in the Faculty of Nursing, we will train a diverse range of nurses who are committed to healthcare, including specialist nurses and certified nurses.
 In terms of research, the university's 'strengths' include photo medical research and industry-academia-government collaboration. In order to strengthen the functions of research development and human resource development, we have established the Preeminent Medical Photonics Education & Research Center and are developing research from basic medicine to medical treatment in a seamless 'cell to human' imaging complex system. Through the activities of the Research Strategy Office, which was newly established in 2020, we will continue to further enrich the imaging complex system and promote cross-disciplinary research using the knowledge, technology, and equipment of photomedicine that we have cultivated over the years, and develop research into autism and other mental health issues, genetic disorders, and other research, as well as drug discovery and the development of new medical devices. We will also continue to focus on strategic research support, including support for major research projects and the development of promising young researchers who will be the core of the next generation.
 Furthermore, in order to deepen industry-academia-government collaboration in our region, we have established the Promotion Center for Medical Collaboration & Intellectual Property to strengthen cooperation between universities, government, financial organizations, and core hospitals. The number of research achievements, the amount and number of scientific research grants awarded per full-time faculty member are always ranked high among the top national universities.
 The primary mission of the university hospital is to provide safe and advanced medical care. Our management situation is extremely good, and while fulfilling the mission of the hospital, many indicators such as the number of operations are in the top group of national universities. In response to the increase in the number of operations, the Medical Functionally-Enhanced Ward equipped with the latest operating room, radiotherapy room, endoscopy room, newborn treatment room, etc. will be completed in 2021. In addition, we have also been reinforcing post-graduate education, and our Postgraduate Clinical Education Center provides consistent support from initial training to major doctor training. Additionally, we have established the Advanced Nurse Training Center to train nurses who perform specific actions, under medical safety, to promote team medical care. We hope that such efforts will improve the quality of medical care and nursing.
 Regarding regional contributions, we play a leading role in medical care not only in the western region of Shizuoka prefecture but also in the entire prefecture. Approximately 30% of the doctors working in Shizuoka are graduates of HUSM or those related to its medical departments, and nearly 30 among them have been promoted to the position of hospital directors in their respective hospitals including three large hospitals with more than 600 beds. In addition, people involved in HUSM are active as directors of the Japan Medical Association, directors of Prefectural Medical Associations, chairpersons of Municipal Medical Associations, and executives of medical administration in prefectures and municipalities. In recent years, about 60% of graduates from the Faculty of Medicine, which is about 70 students, have found their jobs in a variety of positions within the prefecture, making it one of the highest local retention rates in the country.
 Today, COVID-19 is raging around the world, with an extremely serious impact on society and the economy. The university was one of the first to implement thorough infection prevention measures. All faculty members and students act with a high awareness of epidemic prevention, and through the constant efforts of all, we are able to fulfill our responsibilities as the core of community medicine, such as education and medical care. Outpatient care, including emergencies, and inpatient care, including surgery, are proceeding without problems. The classes are a hybrid of online and face-to-face teaching. We have also continued our clinical training without interruption since last year, which is rare in Japan. While this is possible with the understanding and support of the hospital staff, we take this tense situation as an opportunity to cultivate a better quality of medical professionals.
 In the disaster caused by COVID-19, all faculty members and students actively cooperated in infection prevention measures and fully demonstrated their abilities as "Team HUSM". I hope that HUSM will continue to be an organization in which each individual fulfills their responsibilities, has their own dreams, and makes efforts to realize them, which will eventually lead to the sustainable growth of Hamamatsu University School of Medicine.