President's Message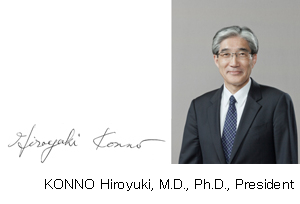 Our Foundation Vision is vitally important. It embodies the high spirits required today as medicine advances and becomes more complex and specialized. All our administrative officers, including myself, must strive to keep it in mind as the guiding light of our university operations.
 During the period of the first and the second mid-term objectives, under the management of the National University Corporation, we have trained our graduates to be excellent doctors and nurses, who are contributing to local medical care. We are proud of the high number of our successful applicants in the National Examination for Medical Practitioners and for Nursing. Our university has also continued original research and formed industry-university collaborations with local companies.
 Moreover, maintaining healthy finances with hospital operation, we have developed and retained needed human resources, established new facilities with superior equipment, and intensively put resources into research, mainly our medical photonics project.
 Now in the period of the third mid-term objectives, concentrating on next-generation needs, we are now promoting reforms that focus on various types of social contribution activities as well as our education, research and hospital that are the core mission of our National University Corporation.
 In anticipation of University Entrance Exam Reforms by the Japanese Government, we are shifting our entrance exam process away from emphasis on mere book learning to the required intelligence and suitable personality of applicants. In education, we are proceeding with a new diploma policy to upgrade education quality. It will focus on cultivating students who can analyze and solve problems with ethical values as a medical professional, with excellent communication abilities and international perspectives.
 Since medical professions should have practical English skills in this era of globalization, all undergraduate students will have multiple opportunities to take TOEIC as a motivation to study English and broaden their ability. English lunch meetings and English Café are held to socialize with international students and researchers. The number of International students and Japanese undergraduate students who goes on a short-term study abroad is increasing year by year. Moreover, an International Center is being established to promote international education and exchange activities.
 We are reinforcing our Postgraduate Clinical Education Center established in compliance with a new regime that started last April for training and certifying medical specialists. We also place stress on developing specialist certified nurses as well as medical specialists. Advanced Nurse Training Center is newly established and I believe it will lead to higher quality team medical care.
 It is also praiseworthy that our University Hospital consistently provides advanced and competent medical treatment under safe and stable medical management with an increasing the number of young and energetic doctors who can perform the latest medical treatments. The recruitment number of young doctors has been on the rise recently and we have welcomed 100 new doctors this year. 
 Our university has had a long association with Medical Photonics, which has become increasingly important in modern medical care and we are continuously making efforts in research and development. The recently established Preeminent Medical Photonics Education & Research Center aggregates a variety of imaging technologies and human resources with skills we have developed and promotes our medical care and medical research in both basic and clinical areas. We have all the functions to develop deeper industry-university collaborations with local companies and associated human resources. Furthermore, last year, we started strengthening highly specialized human resource development in our new Doctoral Course (Cooperative Major in Medical Photonics).
 In order to expand and deepen industry-academia-government collaboration in our region, we established the Promotion Center for Medical Collaboration & Intellectual Property to enhance partnerships between universities, government, banks and local base hospitals.
 The establishment of our new National University Corporation, through the reorganization of our university with Shizuoka University, is making a good progress. This new university in Hamamatsu with 3 faculties, Medicine, Engineering and Informatics, will welcome freshmen in 2022. I believe this new university can build the foundation for developing creative new medical device and medical system, and furthering preventive medicine and medical screening systems utilizing data science, and emergency medicine and telemedicine using AI. In doing so, we aim to create new industries in an aging society with a declining birthrate and to be a "Knowledge Hub" for the regional revitalization in Hamamatsu where we can promote the healthiest lifestyle in Japan.
 All faculty staff and students, as members of "Team Hamamatsu Medical University", are focused on working towards our University's vision. I hope to build an organization in which staff members are united in their efforts to do their part and promote the continual growth of Hamamatsu University School of Medicine.