Students Life
Academic Advisors
 Academic advisors provide guidance and advice on problems related to study, research and personal life.
Tutors
 We offer a tutorial system for new foreign students to help them get accustomed to student life in Japan quickly and to enrich students' study and research. Tutors are generally Japanese students and will give individual advice on problems related to language, academic issues, and daily life.
Supplementary Japanese Classes
 A supplementary Japanese class about Japanese culture and society is offered as a regular credited course for degree students from overseas.
Extracurricular Activities
 We hold extracurricular activities with the aim of improving Japanese language and basic scholastic proficiency. We offer two courses under the guidance of instructors: 1) Introductory Course for new foreign students (twice a week), and 2) Intermediate Course (once a week).
University-Wide Events
 There is always something fabulous and exciting to look forward to at HUSM! Here is a sneak peek at some events that you can expect on campus.
April
Entrance Ceremony
In Japan, April is the beginning of academic year. The Entrance Ceremony is held for the freshmen of HUSM.
June
Anniversary of Establishment
HUSM was established on 7th June 1974. Anniversary event starts with a speech by President Konno, and then have special lectures and award ceremony for researchers.
September
Degree Ceremony
Earthquake Drill
October
Entrance Ceremony
Dedication of Deceased Donors Memorial
Fire Drill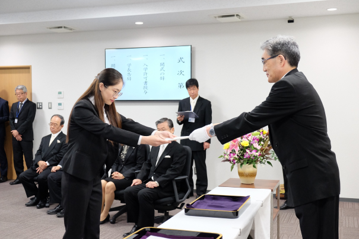 November
International Students Excursion
This excursion enriches your understanding of Japanese culture and customs and helps you to know the other international students and researchers on campus.
March
International Exchange Gathering
Degree Ceremony
Description of Documentation
 The following is a list of the main documents offered. Some certificates require one week to process and be issued after receiving an application. It is recommended for you to apply well in advance.
Student Identification Card
 A Student Identification Card will be issued to degree students. For research students and special research students, cards will be issued via application. For use of the library, students are required to show the student ID card. Please apply for library use in advance to have a bar-code sticker attached to the back of the student ID card.
Student Registration Certificate・Certificate of Enrollment
 These certificates are necessary for applications for visas and scholarships.
Academic Transcripts
 These certificates are necessary for applications for visas and scholarships.
JR Student Discount Certificate
 For degree students who wish to travel by JR trains and ships, you can have a 20% discount off the regular passenger fare (except for the express charge) when the traveling distance of one way is more than 100km. Up to 12 discount certificates can be issued per person annually, so please use these at your convenience. This certificate will be issued at the Educational Affairs section.
Letter of Guarantee for Japanese Government Scholarship Students
 A Letter of Guarantee for Japanese Government Scholarship Students is a certificate of enrolment period and government-financed salary which is required when applying for a visa extension.
Medical Examination Record
 A medical examination record will be required when you apply for scholarships and employment. You can obtain this record at the Health Management Center. Make sure you have had the student medical check up or the report will not be issued.
Other Certificates
 Please contact the Foreign Student Office at the Educational Affairs section for other certificates such as a certificate of tuition acceptance and proof of residence at the International Residence Hall.
Foreign Student Advising Room
 The university facilitates the foreign student advising room to ease the stress and psychological pressure that foreign students might face from living in a different culture, language, and social system. We offer advice, instruction, and counseling about problems ranging from academic life to personal life. Please feel free to visit the center anytime.
HUSM International Exchange Association
 This association was established in 2001 to promote the international exchange program at Hamamatsu University School of Medicine. This association is run by donations from both inside and outside the school.
 [Programs]
 ・Scholarship program for foreign students
 ・Study abroad program
 ・Various programs with other affiliate schools
 ・International exchange programs, etc.
International Exchange Associations in Shizuoka Prefecture
Foreign student Promotion Council of Shizuoka Prefecture
 The council is organized by the higher education institute, municipal corporations, local business groups, and international exchange related organizations in Shizuoka to discuss concrete policies to promote the reception of foreign students to Shizuoka prefecture and the friendship between residents and foreign students. This council organizes sporting events and arts and crafts exhibitions for foreign students and residents in Shizuoka to create an opportunity to socialize and also gives employment information suitable for foreign students such as translation or interpreting, etc.
The Shizuoka Association for International Relations(SIR)
 SIR was established as a base of civilian-centered international exchange activity to contribute to international cooperation and world peace at a private level by promoting international exchange and international cooperation with a broad scope. SIR provides information about international events in Shizuoka prefecture in various fields such as culture, art and sports and offers counseling services and language classes as well.

Address:Shizuoka Prefectural Government 4F West wing 9-6, Ote-machi, aoi-ku, shizuoka,shizuoka 420-0853
Tel:(054)221-3355
Hamamatsu Foundation for International Communication and Exchange(HICE)
 HICE works to make a local convivial society by supporting active civic activities related to international exchange that provide useful information, counseling services, various language courses, and plans international events and fairs. HICE publishes the bulletin HICE NEWS.

Address:324-8 sunayama-cho, naka-ku, hamamatsu, sizuoka 430-0926
Tel:(053)458-2170